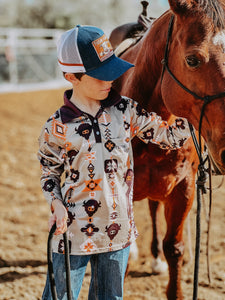 The Poddy Pen
Our Tusik Kids line The Poddy Pen made for our little mates that come along with us on our big days & need clothes made for rolling in the dirt.
Shop Kids Clothes
Custom Orders
Tess here.
2023 edit. im manifesting the shi! out of biiger better and loads more custom orders. Do you all still love fishing shirts? GOOD, so does team TUSIK.
The first custom design and order i ever did was the Koolatah design. A custom order of 40 shirts. Just as popular now as when we started the ole fishing shirt & we love being able to provide that opportunity to other businesses, brands, events & teams to take full advantage of us doing the leg work to get the Tusik shirts you know and love to where they are today. It hasnt been without a lot of blood sweat and a few tears aswell. Today we can proudly offer you a range of custom garments including quick dry shorts, shirts, tees, activewear, jumpers, luggers, caps, button up and 1/2 button work shirts aswell. great for corporate wear and for committees.
Send us an email to tusikflat@gmail.com to get in touch and get into building some awesome shirts for you.